Introducing the New Venom BlackBook® 17 – All You Could Ever Need™
Venom Performance Computers provide high performance computing without compromise, with only the best components utilised to ensure the perfect balance between performance and mobility is achieved, nothing more is definitive than in the embodiment of the BlackBook range. It is – All you could ever need.
The New Venom BlackBook® 17 – Has more power than ever in an even more robust chassis, It boasts a full power, latest Gen Quad Core i7 Processor and NVidia GTX 870M or NVidia GTX 880M graphics card, all in a portable 17" chassis. performance computing just went mobile.
NVIDA GeForce GTX 800 Series High Performance Graphics
The next level of high mobile graphical computing is achieved with the Nvidia GTX 870M and even more potent GTX 880M graphics chipset which provides true PC gaming and Crisp HD Resolutions. Combined with the Venom Vision FHD Display and SoundBlaster SBX Pro – The Venom BlackBook 17 is a true mobile PC powerhouse with enormous real PC gaming, graphical rendering, multimedia and design capabilities. Choose from either the Nvidia GTX 870M or 880M .
Quad Core Intel Core i7 processor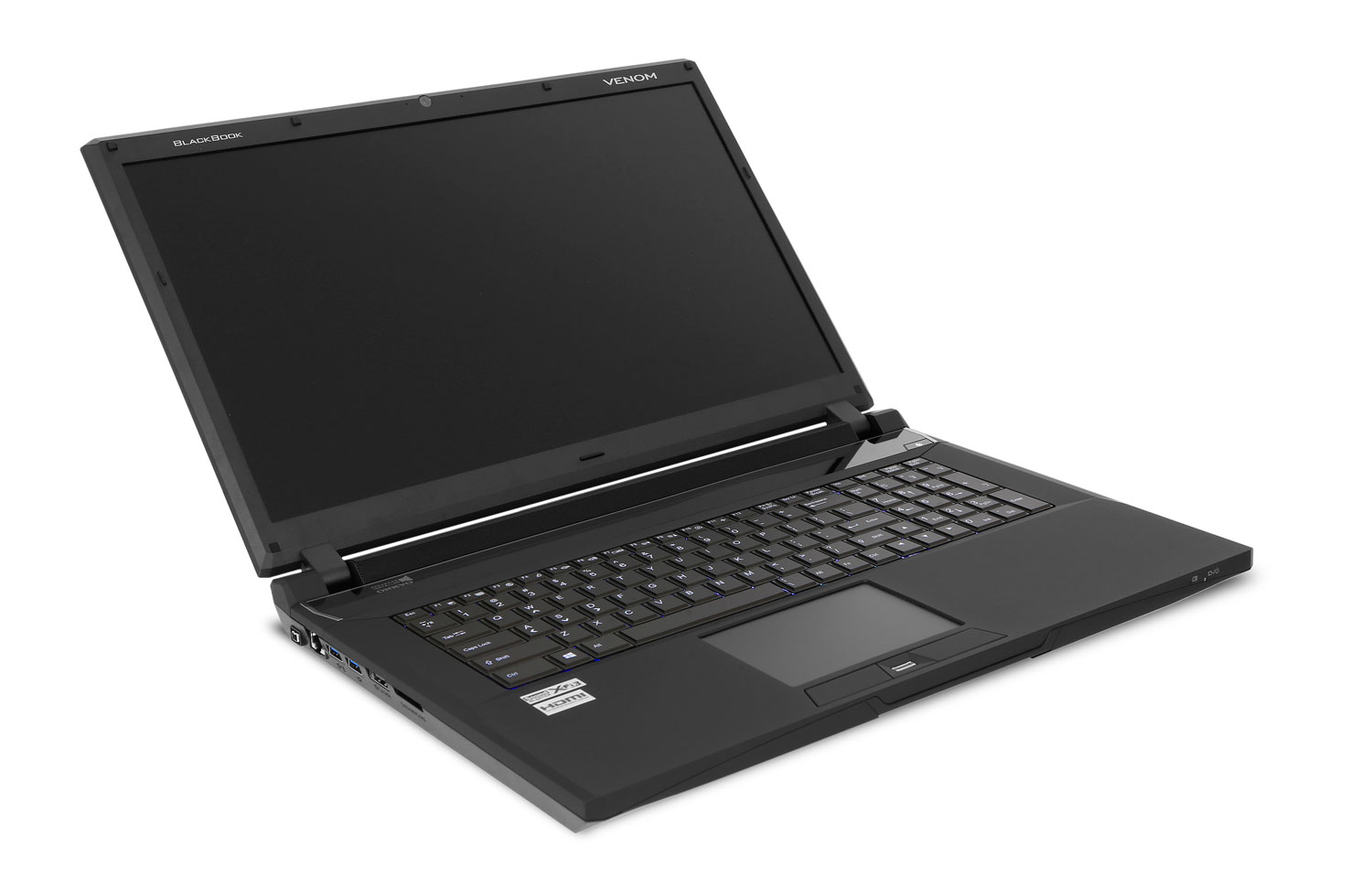 Amazing performance and stunning visuals at their best. top-of-the-line performance for your most demanding tasks with a 47 watt full powered Quad Core 4th generation Intel® Core™ i7 processor. For a difference you can see and feel in HD and 3-D, multitasking and multimedia, the 4th generation Intel Core i7 processor is perfect for all your most demanding tasks.
Venom Vision Full HD LED Display
The non-glare Venom Vision Full High Definition LED panel with wide angle viewing comes standard and provides a visually stunning platform. High Quality picture perfect visuals with the Non Glare Venom Vision 1920 X 1080P Full High Definition panel combined with the high performance Nvidia GTX graphics card is an uncompromising combination for visual gratification. The Venom BlackBook 17 comes standard with the unique Venom Vision Anti Glare Display .
High Performance Audio – with integrated subwoofer

Get ready to immerse yourself with an unrivaled auditory experienced courtesy of the powerful Sound Blaster X-Fi MB3 audio platform featuring the SBX Pro Studio™ and Creative EAX ADVANCED HD 5.0. The SBX Pro Studio™ audio technology creates unprecedented levels of audio realism and adds dynamics and punch to every gaming sound and surround effect. The Creative EAX ADVANCED HD 5.0 features state-of-the-art multi-environment rendering and reverb modeling and delivers an amazingly realistic and immersive 3D gaming experience through the built-in 2w speakers and subwoofer made by Onkyo. Amplify the sound externally with 7.1 channel audio output supported by headphones, microphones, Lin-in and the S/PDIF jack.
High Speed memory and Solid State Drives
To achieve high speed results only the fastest and most reliable msata Solid State drive, Solid state drives and Notebook memory modules are used. This results in an unbeatable combination of energy efficiency, reliability and high performance speed. With up to 32GB of Dual-Channel DDR3 memory, your system will never lag while multimedia editing, graphics design/3D modelling, and graphic-intensive gaming at once.
High Performance with maximum portability
Enjoy incredible battery life with the Smart Lithium Ion battery which provides up to an exceptional 5 hours battery life on this full voltage Quad Core i7 notebook computer with powerful Nvidia GTX graphics card - all provided as standard.
Color Programmable Illuminated Keyboard
Make your BlackBook 17 a stylish focal point with the full colour programmable backlit keyboard. Choose from 7 instant effects or customize your own colour combinations in 3 different keyboard sections with the Keyboard Backlight Application.
Stealth Black
The Venom BlackBook 17 is built around a wide rail twin pipe thermal efficient cooling system with three cooling fans and finished off with a matte black rubberized slip free lid to ensure a high quality feel as well as provide a solid grip during transit.
Full Connectivity

All connectivity options are included as standard, such as a 9 in in 1 Card Reader, HDMI, USB 3.0, Intel Bluetooth, Intel Dual Band a/b/g/n WiFi, and WiDi.. Whether you are gaming, programming, working, designing, drawing, engineering, mixing, editing, , or simply surfing, the Venom BlackBook 17 is All you Could Ever Need.
FACE 2 Face Warranty & Technical Support
With 1 Year Face 2 Face Parts & Labour Warranty and Complimentary 120 Days Face 2 Face Technical Support# (includes phone support). You can rest assured that the high performance promise will be backed with a support promise to match.

Manufacturer Web Link
http://www.venomcomputers.com.au/
Venom Product Reviews
To read Venom product reviews click here.
Specifications
---
| | |
| --- | --- |
| Processor: | Intel® Core™ i7-4810MQ Processor (6M Cache, up to 3.40 GHz) |
| Memory: | 16GB Venom BlackVault DDR3 1866MHz High Performance Memory |
| Solid State Drive: | 240GB SSD RAID 0 (2 x 120GB SSD ) |
| Hard Drive Storage: | 2TB 7200RPM HDD RAID 0 (2 x 1TB HDD) |
| Graphics Card: | NVIDIA® GeForce® GTX880M with 8GB VRAM |
| Operating System: | Windows 8.1 Pro 64bit (with free upgrade to Windows 10 available) |
| Screen: | 17.3"FHD (1920x1080) Venom Vision Anti Glare Display |
| Audio: | High Definition Audio, S/PDIF digital output, Built in microphone, Built in two speakers, Built in one subwoofer speaker, SOUND BLASTER® X-FI® MB3, External 7.1CH audio output supported by headphone, microphone, Line-in and S/PDIF jack External 7.1CH audio output supported by headphone, microphone, Line-in jack, S/PDIF |
| Connectivity: | Built in 10/100/1000Mb Base-TX Ethernet LAN, 2 x USB 3.0 ports (1 x powered USB port, AC/DC), 1 x eSATA / USB 3.0 combo port, 1 x Mini IEEE 1394a port, 1 x Display port 1.2, 1 x Mini Display port 1.2, 1 x HDMITM output port (with HDCP), 1 x Headphone jack, 1 x Microphone jack, 1 x S/PDIF output jack, 1 x Line-in jack, 1 x RJ-45 LAN port |
| Connectivity: | 9-in-1 Card reader - MMC / RSMMC, SD / mini SD / SDHC / SDXC / MS / MS Pro / MS Duo |
| Wireless Connectivity: | Intel® Centrino® Advanced-A-C 7260, Dual Band, Widi Support, Bluetooth 4.0 |
| Built-In Devices: | Illuminated keyboard, Built in touch pad with multi-gesture and scrolling function |
| Webcam: | 2.0M HD Video Camera |
| Optical Drive: | Blu-Ray Writer |
| Power Supply: | Full Range AC adapter, AC in 100~240V, 50~60Hz, DC output 19V, 11.57A, 220W |
| Battery: | Removable 8 cells Smart Lithium-Ion battery pack, 76.96WH up to 5 Hour battery Life |
| Weight: | 4.1kg, including 76.96WH battery |
| Dimensions: | 414 (W) x 286 (D) x 25.3 - 46.1 (H) mm |
| Warranty: | 1 year Face 2 Face Parts and Labour warranty and Complimentary 120 days Face 2 Face Technical Support (includes phone support) $499 Total 3 years Face 2 Face Parts & Labour warranty and 3 years Face 2 Face Technical Support (includes phone support) |
Recommended Addons
---