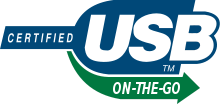 Turns your mobile phone or tablet into a USB host.
This OTG Cable allows you to connect USB accessories such as keyboards, mice, flash memory drives and memory card readers to your device.Enhances the capabilities of your device, providing a solution for user-friendly removable data storage or the sharing of your favorite multimedia files. Micro-USB male connector to USB female connector.
Connect your peripheral devices like mice, keyboards and more to your portable electronics such as cell phones, eReaders, tablets, and laptops with this micro USB OTG (on-the-go) to USB 2.0 adapter Operate small USB peripherals by plugging in the adapter cable which transforms your mobile or portable device into a USB capable unit Adapter allows you to use standard USB devices with micro 5-pin oriented electronics.
Functions depended on the device's operating system and applications,Compatible with any device that supports OTG via Micro-USB. Please note that some devices are limited to what can be done via OTG.
Specifications
---
| | |
| --- | --- |
| Features: | Micro-USB On-The-Go Host Cable allows you to connect USB devices |
| | such as Flash Drives, Hard Drives, Mice, Keyboards, Game Controllers and more |
| | any device that supports OTG via Micro-USB, such as some Mobile Phones and Tablets |
| | Functions depended on the device's operating system and applications |
| | Compatible with any device that supports OTG via Micro-USB. |