360° of Flexibility
The Venom BlackBook Flip Mini is the 2 in 1 that combines the productivity of a laptop with the ultra-mobility of a sleek and durable modern windows 10 PC. Type, touch or ink with digital pen included.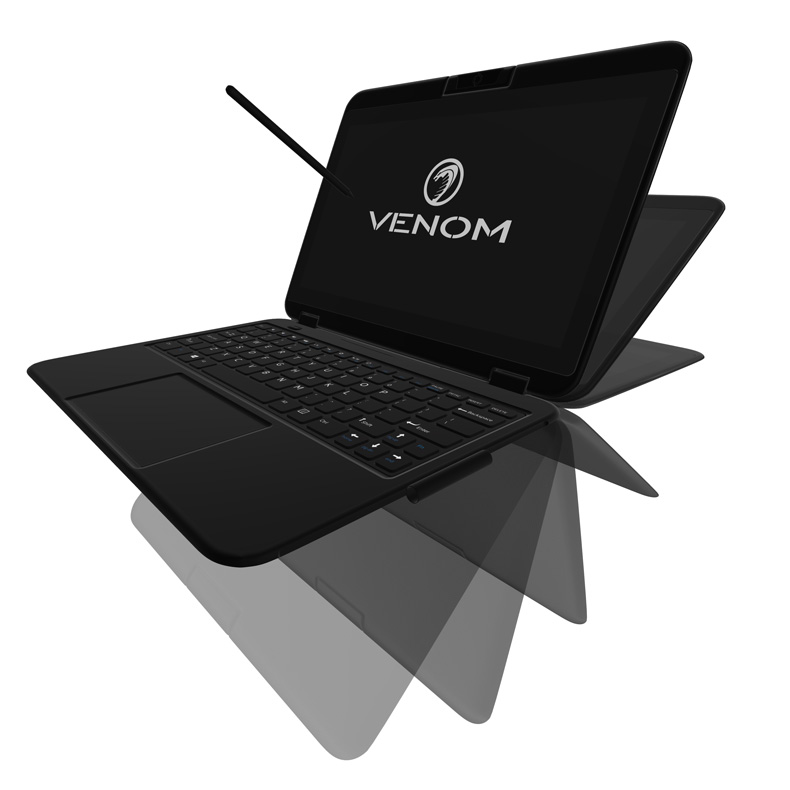 A 2 in 1, with 4 different modes
Laptop Mode
The traditional clamshell laptop mode is still perhaps the best way to type and look at your screen while still being able to you use the included active pen and touch screen.
Stand Mode
Flipping to the stand mode, disables the keyboard, while still having all touch features active. Ideal for presentations, watching movies, especially when on the plane and the seat in from of you is reclined. Stand mode allows for you to adjust the screen angle to what is best.
Tent Mode
Flip to tent mode, to take full advantage of touch capabilities, the stability tent mode provides allows for the full use of the active pen or interactive touch engagement of the screen.
Tablet Mode
Flipped all the way to tablet mode, allows for one hand usage as the BlackBook Flip Mini is ideally suited to hold with in one hand and draw with the other.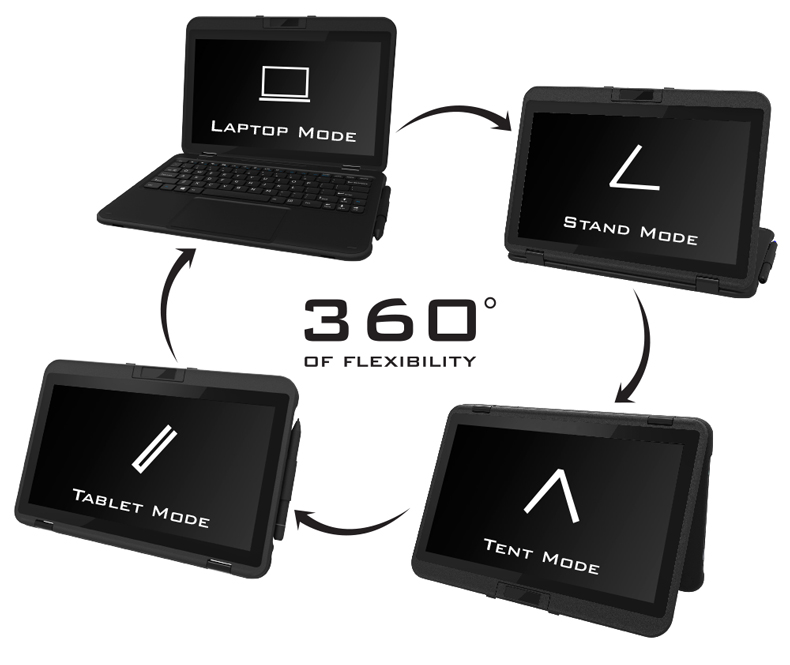 Take a closer look at the Venom BlackBook Flip Mini 11
Built Tough
Powerful enough for the classroom or field, rugged enough for the road.
Powered by a Quad Core Intel Processor, the BlackBook Flip Mini combines the performance of a desktop PC, Laptop and a tablet. Its convertible 2 in 1 design lets you use it in 4 different modes: Laptop. Stand, Tent and Tablet mode. Dust and Spill resistance with rugged engineering and many hours of battery life make it perfect for both students and road warriors.

Drop Tested
Designed to withstand the sometimes rough classroom, outdoor or office environment. Withstands up to 70 cm falls. Drop tested to withstand bumps, knocks and accidental drops.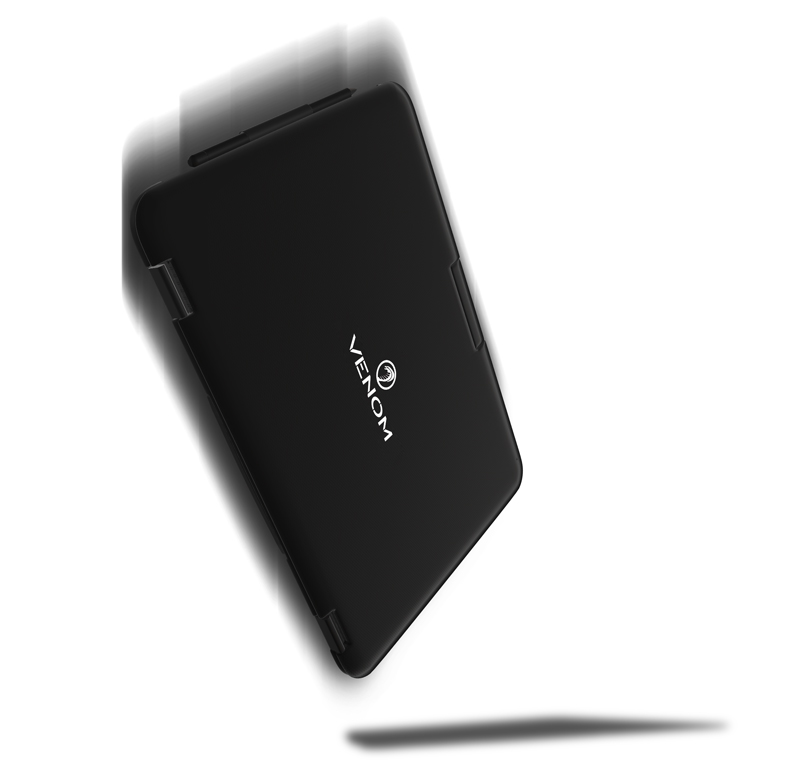 Splash Resistant Keyboard
No need to worry about spills of up to 100ml with the splash resistant keyboard & touchpad. Getting wet never mattered as little as now.
Fanless Design
Enjoy the midnight silence with the fanless design. Reduce dust intake with the passive cooling system that is both silent and does not blow any air onto your face, arm or hand. A fanless design also ensures a longer operating life by being more reliable due to less moving parts.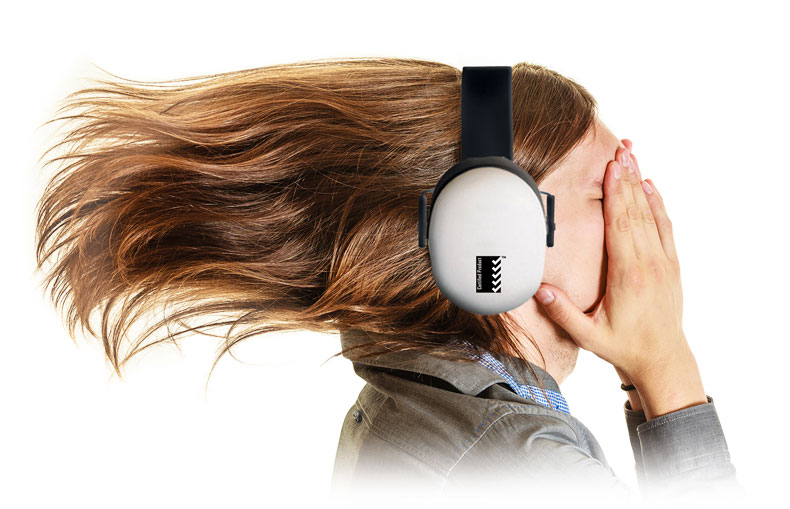 Pen, Touch & Windows Ink
Be ready to perform straight out of the box with the included active stylus and windows ink support. Solve problems, draw, write and take notes all on the go.There is also a dedicated holder on the side of the BlackBook Flip Mini that acts as a housing for the Pen.
Windows Hello Fingerprint
No more forgotten passwords with the biometric fingerprint scanner.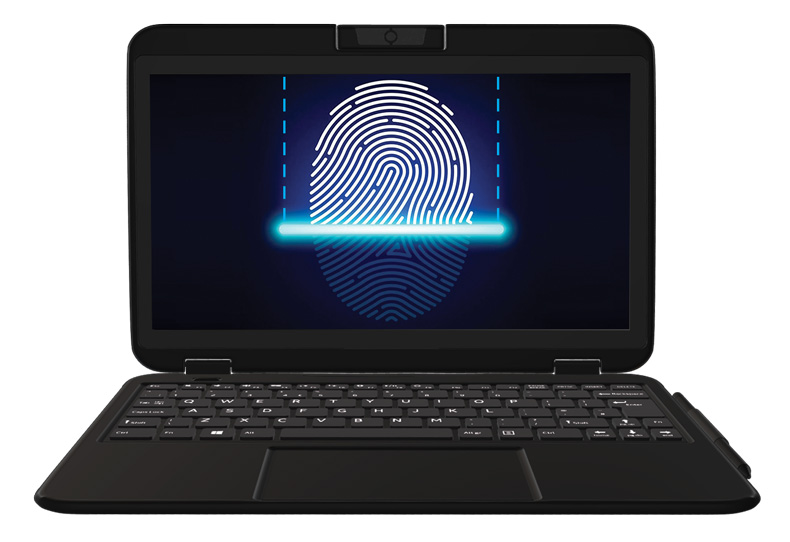 Retractable Handle
Includes a built in handle for easy transportation between classes or the office. The handle slips back into the case being unnoticed and is a simple and safe way to carry the BlackBook Flip Mini.

2 x AC Adapters
One for home and the other for away. The Venom BlackBook Flip Mini 11 comes standard with 2 x AC Adaptors meaning you can keep one at home and the other at your desk away or at the ready for when you travel.
Connectivity
Bluetooth, Intel A/C wifi, USB type C and other ports all as standard ensuring you can connect to any other accessory or device with ease.
Solid State Memory
The BlackBook Flip Mini utilises LPDDR memory for faster and efficient calculations as well as high Speed SSD for faster read and write times that are up to 5 times faster than traditional laptop hard drives.

Long Battery Life
Get up to 12 hours battery life under extreme battery saving settings and up to 8 hours battery life with optimal usage settings.
Freedom no longer at a price
Every Venom BlackBook comes standard with a full 12 months of Internet Security and Antivirus protection. Freedom no longer comes at a price. Windows is the world's most popular and open operating system that is now protected by the full version Internet Security software bundled by Venom as standard.
Recovery, not the 6am kind
The system recovery image is provided on an external USB 3.0 drive. This means you can always recover your original factory image regardless of what happens to your computer's storage drive. Upgrades and clean starts are just 12 minutes away from being back where you need to be.
Cortana
The Microsoft certified virtual assistant that works with the built in speaker and microphone. Cortana can recognise natural voice and help with keyboard input, answer questions with internet search engines and set reminders on your calendar.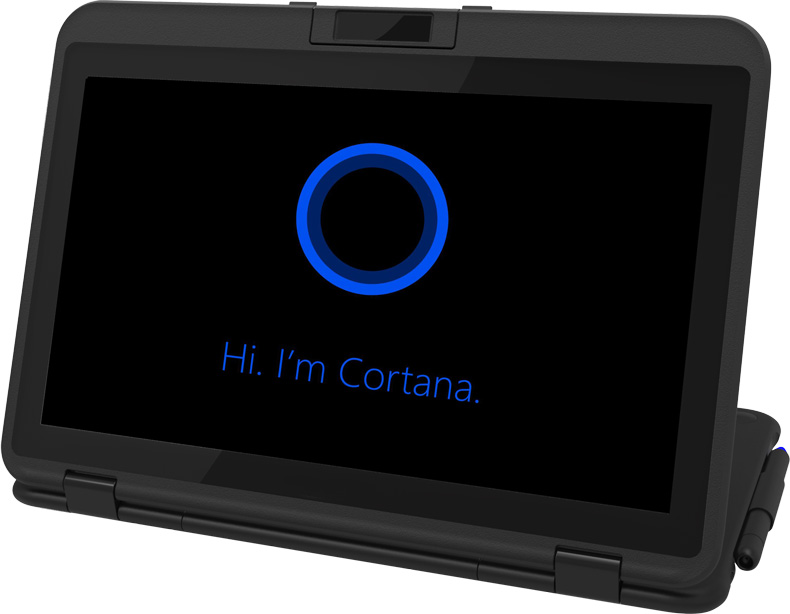 Specifications
---
| | |
| --- | --- |
| Processor: | Intel Pentium Quad Core N4200 |
| Case: | Drop Tested (70cm) Water Resistant Keyboard/Touchpad (100ml) |
| Memory: | 8GB RAM (LPDDR3) Ultra Low Voltage Thermal Efficient Memory |
| Solid State Drive: | 256GB SSD |
| Graphics Card: | Intel HD 505, up to 750 MHz Dynamic frequency, Microsoft DirectX 12 compatible |
| Operating System: | Microsoft Windows 10 Pro |
| Screen: | 11.6" IPS HD Multi-Touch |
| Connectivity: | 1 x USB 3.0 (Type C), 1 x USB 2.0 (Type A), 1 x Audio combo jack |
| Wireless Connectivity: | Intel Dual Band Wireless AC 3165, Bluetooth 4.2 |
| Built-In Devices: | Active Stylus Included |
| Webcam: | 2.0M HD Rotatable Camera |
| Expansion Slots: | Micro SD 3.0 |
| Power Supply: | 2 X Power adaptors for both Home & Away |
| Weight: | 1.5kg |
| Dimensions: | 298.5(W) x 207.3(D) x 19.9(H)mm |
| Features: | Windows Cortana, Windows Ink, Windows Hello, Continuum |
| Features: | Drop Tested (70cm) Water Resistant Keyboard/Touchpad (100ml), Dust proof IP5 (A & B face only), Fingerprint Reader |
| Warranty: | 1 year Face 2 Face Parts and Labour warranty and Complimentary 120 days Face 2 Face Technical Support (includes phone support) |