Venom BlackBook Zero 14 Review International Business Times (Rating: 5 stars)
"We recommend the Venom BlackBook Zero 14 Phantom and award it with the IBTimes Recommended badge"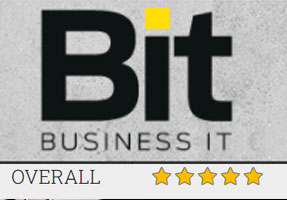 Venom BlackBook Zero 14 Review by Business IT (Rating: 5 stars)
"A machine that will do exactly what it promises to do"
Venom BlackBook Zero 14 Editors Choice (Rating: 5 stars)
"unheard of in computer terms"
<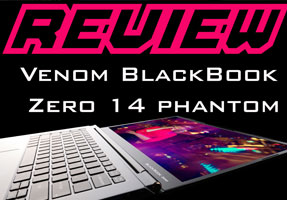 Venom BlackBook Zero 14 Phantom Long Form Video Review by Deep Tech Dive
"The Best Ultraportable Laptop..."
Business, Class
Our lightest and most powerful BlackBook. Built on the principles of Intelligent Performance. The all-new, Venom BlackBook Zero 14 Phantom, has an astonishing battery life of up to 30 hours, while remaining incredibly lightweight – less than 1 kg (2.2 lbs).
No compromise. Our 8th generation Venom BlackBook Zero boasts the fastest mobile processor, memory, and storage, available in the world. Full sized PC connectivity with real world computing speeds up to 4 x faster than the previous Zero 14.
Mobile Brilliance.
Conduct business brilliantly. The BlackBook Zero 14 Phantom is designed for those who demand the highest mobility with maximum performance, and zero compromise.
The brave and the inspired always aim for the next level. The accumulation of each small, but tangible, improvement at every level, ultimately results in huge gains.
The Zero 14 Phantom series, by every standard, is simply better. That is why the BlackBook Zero 14 Phantom is the best, highly mobile, high performance, BlackBook we have ever made.
Smarter, Faster – Intelligent.
The Zero family was conceived over 10 years ago to incorporate the features of the original high performance BlackBook range. Originally designed for engineers, designers, and architects, the BlackBook was then repurposed for business and productivity use. Each component is calibrated to work harmoniously with the next, ensuring speed translates to real world performance.
Facial recognition, Thunderbolt connectivity, cloud sized-localised lightning-fast storage and more is wrapped in Imperial graphite black, dust and water resistant, magnesium alloy chassis. Smart and fast meets intelligent and functional.
Venom Vison – Lifelike Vibrancy.
The Venom Vision 14" FHD IPS display has a deep black IPS panel in a non-reflective matte anti-Glare LED display. The efficient lower power screen assists with achieving the remarkable 30-hour battery life. 100% sRGB gives consistent colours and brightness across all platforms. Wherever you use it, everything will look great, every, single, time.
Big Power – Compact Design.
Ergonomically designed to work from any perspective with a Wide Viewing Angle (WVA) screen. Sit or stand and adjust the perfect angle to your liking.
Magnesium Alloy CNC Machined Unibody.
Made from a CNC machined Magnesium Alloy, the lightest structurally used metal in the world. Approximately 30% lighter than equivalent premium Aluminium Alloys, while having a greater strength-to-weight ratio and remaining cool to the touch.
Business, Everywhere.
Exceptional experience within this one device. Unplug for up to 30 hours, with faster everything, and a full array of connectivity options. Run all your business and productivity applications, everywhere you go.
Aerospace Inspired.
Magnesium is less thermally conductive, meaning the Zero 14 Phantom is coolest to the touch. The primary secret to the Zero 14 Phantom weighing less than 1kg – 2.2 lbs, is also attributed to the use of an aerospace grade casing.
Stealth Active Cooling.
User controllable Active Venom Stealth Cooling (AVSC). Control fan speeds and temperature with 4 pre-set modes. Achieve near silence with Stealth mode via the turbine blade fins. The newly designed angular turbine blade fins increase air pressure, and airflow, while also reducing RPM noise for all levels of operation.
Intel Mobile Core i7
11th Gen Intel Core i7 processor with Intel Iris Xe graphics, is the world's best processor for thin and light laptops.
This processor surpasses everything in its class — with major advances in all areas that matter.
Immersive graphics, amazing AI acceleration, and best-in-class wired and wireless connectivity to help you focus, create, and engage at new levels.
Combined with new industry-first and best-in-class technologies, like Wi-Fi 6 (Gig+), Thunderbolt 4, AV1 media decode, CPU-attached PCIe Gen 4 interface, and hardware-hardened security features.
Power Your Imagination.
Able to complete creative projects with blazing speed, powered by unique hardware accelerated AI, all in a sleek, thin & lightweight, laptop with leading performance — whether plugged-in or unplugged.
Intelligent Performance.
Harmony is achieved when design and functionality come together in one usable, calibrated, and tuned manner. A superb array of connections, brilliant SoundBlaster audio, immensely large lightning-fast dual drive flash storage, huge amounts of high-speed memory for smooth multitasking. Next generation facial recognition, backlit keys with a smooth agile touchpad. Unified and wrapped in a stealth aerospace cool, imperial Black Magnesium alloy casing.
Up to 8TB of SSD Storage – Speed & Ease.
Utilising the next gen fastest commercially available SSD known to man. Take all your data with you, wherever you go. Not only is this the highest available storage in any notebook, but it's also the quickest.
At Venom we are committed to sourcing the best. Multiple configurations ensure you will now have all your photos, videos, spreadsheets, data files, complete works and works in progress, available upon demand, with ultrafast speeds. Professional applications will launch in an instant, and massive files will be at your command without having to rely on cloud storage.
The World's First PCIe Gen4 NVME SSD
The extreme speed your innovations need. For the first time, unleash the force of PCIe Gen4 NVMe SSD. The first PCIe Gen4 NVMe Client SSD for use in PC manufacturing. The new top tier performance. Unleash AcceleratedGen4 Speed. Gen4 delivers sequential read speeds of 7,000 MB/s – that's 50% faster. Random read speeds are also improved by 50% to 1,000K IOPs for accelerated operations.
Dual drive design – Safe data storage
Not only does the BlackBook Zero 14 Phantom come with the fastest and most reliable SSD, the Zero 14 Phantom can be configured to have two drives. Keep your applications and programs on one drive and documents and media on the other. Safe, independently upgradable, two separate physical drives. Data loss or recovery on one drive, means the other drive is out of harm's way.
Your own personal cloud – Right here.
All this, ultrafast, plus mammoth storage space of up to 8TB, at speeds of up to 7000 MBps (7GB/s), means you can take your entire 1library of photos, videos, and music with you. No more cloud dependence.
Military Tough.
US Department of Defence MIL-STD 810G certified straight out of the box. The aspects covered are: Mechanical shock, High/low-pressure testing, Rain and water spray, Humidity, Fungus, Salt fog, Temperature resistance and more. The Zero 14 Phantom means business. Durability and reliability, without compromising on its appearance.
built-in webcam.
Crisp, clear video calls
Show your best side, even in low light, thanks to the front-facing, high-definition camera. Dual far-field Studio Mics capture your voice and reduce background noise.
Enhanced Audio.
Two built in speakers, with high-definition audio. Clear, crisp, and precise.
Visually, Stunning.
Discrete-level graphics performance in a sleeker, thinner, and lighter laptop. 11th Gen Intel Core processor with Intel Iris Xe graphics enables playable gaming frame rates in full-HD. Brilliant visuals with support for billions of colours, HDR10, Dolby Atmos sound, and long playback of Dolby Vision-enabled content with hardware acceleration, an industry first. Not only can you play top games in up to 1080p at 30 fps or more, you'll also enjoy an amazingly immersive entertainment experience.
Up to 30-hours battery life.
Significantly longer battery life than predecessors. The longest battery life in any BlackBook ever. Zero corners cut.
Power to do it
Up to 3200 MHz of 40GB RAM. Run Microsoft 365 and creative apps. Protect files and photos in the cloud with OneDrive. Enjoy fast browsing with Microsoft Edge. Watch a film or play your favourite game.
Connect Everything to Everything.
Connect everything, all your devices. As a professional, the devices you own from yesterday and those you'll own tomorrow, all have a place. The Zero 14 Phantom is designed and built to support and house the equipment, and accessories, you already have invested in, while future proofing those that are yet to be, all in a mobile platform.
Thunderbolt 4.0 PCIe x4
Thunderbolt 4 is the latest generation of Thunderbolt with high-speed 40Gbps of bandwidth and performance. Use next generation docking stations, external high-speed SSD, Video capture devices and external graphics cards.
Smooth Touchpad
Built-in touch pad with Microsoft PTP multi-gesture and scrolling function.
Illuminated Backlit Keyboard.
Built on Venom's BlackStrike heritage, we believe the keyboard remains the most important input device for any computer. A4 sized, backlit, user dimmable keyboard with perfectly displaced keys for keystrokes.
Leading the AI Revolution.
The highest performing AI acceleration ever built for thin, and light, laptops. This is uniquely designed to dramatically accelerate the latest AI-enhanced applications and modern workflows. AI powers more immersive collaboration, with neural noise suppression, and even video super-resolution for professional videocalls, in any environment, using the latest low bandwidth encode and the best Wi-Fi technology for video conferencing. Revolutionary for creative workflows, enabling amazing new photo and video editing capabilities, at incredible speeds.
Stealth Active Cooling – They will never hear you coming.
Venom's Stealth Active cooling ensures all that high performance doesn't come with a tax. Thinner more energy efficient, and most importantly, a high air flowing fan built with an anti-vibrating array of bearings, to move heat away from critical components.
Stealth Mode – Fan acoustic control.
Stealth mode can be activated for dynamic thermal and acoustic control, optimising the CPU and GPU to use less power and limit the air flow acoustic volume. Meetings, sittings, and solo time can be stealth quiet at your control. Independently User controlled performance and thermal settings. Control how much power you wish to consume at what performance levels, with full control over the active cooling fan.
Beautifully thin.
Ultra-light and Ultra-thin, the Zero 14 Phantom in its Imperial Black Magnesium Alloy form factor is ultra-cool to the touch, and ultra slim, being just 16mm.
External Recovery Drive.
Restores factory settings and the factory image in under 10 minutes with the included external USB recovery drive. Have the freedom to upgrade and the peace of mind knowing you can get yourself back up and running when it suits you at the time you need it.
2 X AC Adapters included – Power up Home and Away, Covered.
2 x International Power Adapters + 2 x power cords included as standard. One for home and one for the office. With the added portability, extended battery life and two power supplies, you will never run out of power.
Fully loaded with only the leanest and meanest software – No Bloatware
As with any Venom BlackBook, our factory image comes with fully licensed and usable software with no bloatware and all the right tools. Our Windows image is optimised for performance and each and every pre-installed program has been carefully selected, customised and installed for the optimal user experience. You will not need to spend all that time installing software from when you first turn it on.
Multiple Monitors – Three Screens
Three screens – Supports 2 x external monitors – Countless studies continue to show that dual monitor setups greatly improve efficiency when it comes to computer usage. Dual monitors on your desk allow you to have critical information displayed on one screen for reference purposes while utilizing the second for your actual work, have a PDF document or website open on one screen and Microsoft Outlook or Word open on the other. The BlackBook Zero 14 Phantom will allow you to use two external monitors while still running the third screen on your BlackBook, natively. The BlackBook Zero 14 Phantom is designed to work for you both in and out of your office, studio at home or away, wherever you are.
All Business, All Class.
Crafted from aerospace magnesium alloy, engineered to be ultra-mobile for ultra-performance. Mobile Intelligent performance.
Manufacturer Web Link
http://www.venomcomputers.com.au/
Venom Product Reviews
To read Venom product reviews click here.
Specifications
---
| | |
| --- | --- |
| Processor: | Intel 11th Gen Intel Core i7 Processor (4.7GHz - Quad Core) |
| Case: | Aerospace-Grade Magnesium Alloy CNC machined unibody in Imperial Graphite Grey. 180° hinge design. |
| Memory: | 16GB LPDDR4 Ultra Low Voltage |
| High Speed Solid State Drive: | 1TB M.2 NVMe SSD (Up to 7000MB/s) |
| Storage 2: | 1TB M.2 NVMe SSD (Up to 7000MB/s) |
| Graphics Card: | Intel Iris Xe Graphics (1.30GHz Dynamic Frequency, 8K 60Hz External Monitor Support) |
| Operating System: | Windows 10 Pro 64-bit |
| Screen: | 14.1" Full HD IPS LED (1920 x 1080) Venom Vision Display |
| Audio: | High Definition Audio with 2 x boombox speakers, built-in 2 x microphones, audio jack for speakers or headphones |
| Wireless Connectivity: | Intel Dual Band Wi-Fi 6 AX201 2x2 AX, Bluetooth 5.1 |
| Built-In Devices: | 1 x USB Type C (Thunderbolt 4.0 + Power Delivery + DisplayPort), 1 x USB 3.0 port Gen 1 (Type A), 1 x USB 3.1 port Gen 2 (Type A), 1 x HDMI, 1 x Headphone/Microphone jack, 1 x DC-in jack, MicroSD Card Reader |
| Webcam: | HD Video Camera |
| Input Peripherals: | Backlit chiclet style touch-type keyboard, Built-in touchpad |
| Power Supply: | 2 x Full Range Micro AC Adapters, AC Input: 100~240V 50~60Hz, DC Output: 19V 3.4 A, 65W. Power adapters for both home & away |
| Battery: | 73Wh embedded serviceable Polymer Smart Lithium-Ion battery. Up to 30 hours battery life. Flexicharger enabled to reduce micro charging, extending battery lifetime charge/discharge cycles |
| Weight: | 990g |
| Dimensions: | 321(W) x 218(D) x 16(H) mm |
| Warranty: | 1 Year Parts & Labour |